Published: Tuesday, May 31, 2016 04:51 PM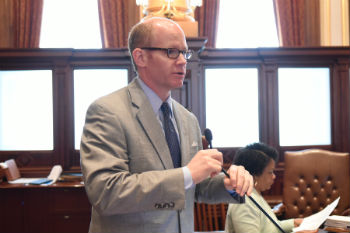 Children and adults with autism would benefit from two measures that passed out of the Illinois Senate with the support of Senator Don Harmon (D-Oak Park).
Senate Bill 345, which Harmon sponsored, acknowledges that autism is a whole-body disorder that affects more than simply a person's neurology and behavior. The legislation would empower physicians to approach their diagnoses more effectively and would prohibit health insurance companies from restricting covered treatments for patients who have autism.
Studies have shown that medical conditions, such as gastrointestinal and immunodeficiency problems, commonly occur in people on the autism spectrum. When properly diagnosed and treated, not only do these medical conditions improve, so, too, do the autism symptoms.
"It is not uncommon for medical providers to dismiss underlying medical symptoms simply as 'autism' and miss the opportunity to adequately evaluate and treat patients," Harmon said. "Senate Bill 345 eliminates a bureaucratic barrier and encourages providers to be more thorough with their medical evaluations and recommendations for treatment."
The legislation creates the Autism and Co-Occurring Medical Conditions Awareness Act. It passed unanimously in the Senate and in the House. It now goes to Gov. Bruce Rauner to be signed into law.
Laura Cellini, a parent advocate from Springfield, supports the legislation. She noted that people with autism have a mortality rate that is 10 times that of their peers of the same age.
"Often this is due to their inability to receive accurate diagnoses and treatment for their underlying health issues," she said. "That is why this legislation is so critical to improving health outcomes for people with autism."
In addition, Harmon supported House Bill 4257, which would allow people on the autism spectrum to be issued state-issued wallet cards that identify them as autistic. The cards can be shown to police officers, firefighters and others during high-stress encounters in which the cardholder is unable to communicate effectively.
Individuals with developmental disabilities, autism and mental illness can have difficulty communicating with other people, especially during heightened situations, prompting law enforcement professionals and others to mistake them as simply being difficult or defiant. The wallet card would be a signal for authorities to de-escalate the situation.
The cards would be issued by the Illinois Secretary of State's office.
The legislation was sponsored by Senator Linda Holmes (D-Aurora) and Representative Stephanie Kifowit (D-Oswego). Harmon was a co-sponsor in the Senate.
"As we continue to learn about the causes and symptoms of autism – a disorder that affects thousands of Illinois families and individuals every day – it is critical that we do whatever we can to offer people the kinds of resources they need to thrive," Harmon said. "Ensuring they are not denied needed medical treatment and giving them the ability to communicate effectively when the stakes are high are just two ways we can help."
Category: News