Published: Sunday, June 02, 2019 04:54 PM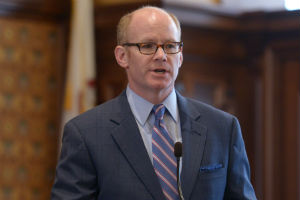 SPRINGFIELD – State Senator Don Harmon (D-Oak Park) voted today for a responsible, bipartisan, balanced budget that keeps Illinois on its path to stability while funding much-needed programs for middle-class and working families.
"This is a responsible and balanced while funding vital programs," Harmon said. "We are continuing to honor our commitment to ending the chaos of past years and moving toward stability for our state."
The approved budget appropriates $375 million in additional funding for K-12 education, $25 million more than required by the evidence-based school funding formula. It also includes $50 million in new funding for early childhood education programs and expands eligibility for the Child Care Assistance Program.
Human service providers that are still struggling to recover from the previous governor's budget crisis will receive millions in funding, from domestic violence shelters to early intervention programs.
The budget also gives a long-awaited raise to home health care workers. Those who care for seniors and individuals with disabilities are set to receive an increase of approximately $3.50 per hour.
The budget package now heads to the governor for approval.
Category: News