Published: Tuesday, May 09, 2017 09:50 AM
The following column was published May 2, 2017, in the Oak Park Wednesday Journal.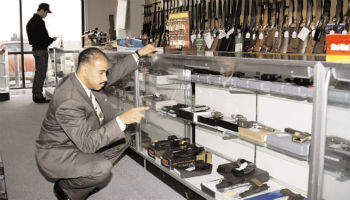 When facing a problem, do something. If that doesn't work, do something else.
That pithy advice is credited to President Franklin Roosevelt. Last week in Springfield, we finally did something to help stop kids from dying in our streets by passing bipartisan state-level gun dealer licensing legislation.
Despite cries to the contrary from gun advocates, this proposal could bring meaningful change to the neighborhoods I represent by protecting families from the devastating scourge of senseless gun violence.
Fourteen-year-old children are shooting each other because guns end up too easily in the wrong hands. Senate Bill 1657 will give police new tools to hold corrupt or reckless gun dealers accountable and curb the flow of illegal guns to our streets. It is a meaningful step to protect our children and neighborhoods.
This measure is long overdue for Illinois.
I first introduced similar legislation in 2003 and attempted to pass it in every General Assembly since. No debate has frustrated me more. In those years, thousands of lives were lost, entire communities were destabilized, and Chicago gained widespread attention — all because of gun violence and the powerful gun lobby.
Locally, we gathered at dozens of community meetings and anti-violence rallies on the West Side. Last month, we discussed the problem at the historic Austin Town Hall, a block from the brazen daylight shooting that left one dead and five injured just days before.
At every gathering, our anger and frustration has grown, as has the desperate cry for action from grieving families and communities.
The Illinois Senate finally took a step forward on a common-sense solution. Gun dealers are the most critical link between manufacturers and the public. A recent study revealed that 40 percent of guns used in crimes in Chicago were sold by Illinois gun dealers.
Senate Bill 1657 encourages responsible business practices — including background checks, employee training and state inspection authority of dealer locations — to curb illegal transfers of guns.
Illinois would not be alone in requiring state-level licensing; 27 other states have enacted similar rules.
This is a difficult issue for many. Other corners of Illinois have different cultural mores when it comes to gun ownership and rights. Law-abiding gun owners deserve a place at the table, too. I appreciate my downstate colleagues who chose to see things from our point of view, including the lone Senate Republican brave enough to cross the aisle to get this done.
As this debate moves to the House, we will need to find more support. We will not benefit from the cooperation of the National Rifle Association, which responded to the Senate's action by instructing members to "neutralize Harmon" — an alarming but not surprising reaction.
I urge you, those who are directly affected by gun violence and who have seen the devastating effects of it, to do something to ensure this legislation is successful in the House. Call and write Illinois' state representatives to voice your support. Get involved with an anti-gun violence advocacy group.
We owe it to our children and to those we've lost to gun violence to do something.
— State Senator Don Harmon represents the 39th District, which includes Oak Park, where he is a resident.
Category: News