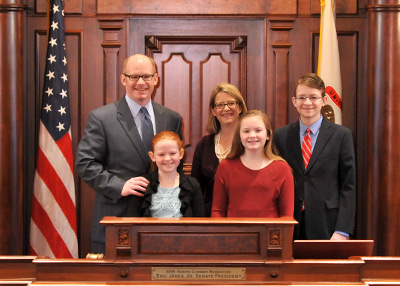 Senator Don Harmon and his family have deep roots in the 39th Legislative District. Harmon was born and raised in Oak Park and remains in the community.
First elected to the Illinois Senate in the fall of 2002, Senator Harmon has promoted a progressive agenda in Springfield, one based on his profound commitment to social justice and public service.
During his time in the General Assembly, he has championed early childhood education, improving government oversight, advancing ethics reform, curbing gun violence, protecting civil rights and expanding voter access. He also has worked to protect Illinois' natural resources, promote renewable energy and enhance economic opportunity for all.
He counts his legislation to create the Illinois Early Learning Council, which eventually led to the creation of the Preschool for All program, among his most enduring accomplishments.
Senator Harmon has been a strong advocate for voters' rights. He championed a law to expand access to voting and make same-day voter registration a permanent option in future elections. In the most recent legislative session, he co-sponsored a law creating an automatic voter registration system that registers Illinoisans to vote when they visit the Illinois secretary of state and other state agencies for services. This law is expected to add approximately 1 million eligible voters to voter rolls in Illinois.
Senator Harmon has also promoted alternative energy sources, passing a plan that will direct the state to invest $30 million in solar energy and a plan that clears the way for $2.2 billion investment in wind energy.
Senator Harmon is the lead sponsor of the Fair Tax constitutional amendment to allow Illinois to replace the current flat income tax with a fairer, more equitable and efficient approach to lower tax rates for lower income levels and higher rates for higher income levels. The fair tax will cut taxes for the vast majority of Illinois families, while still providing for critical services, such as education, health care and programs for senior citizens and people with disabilities.
In the most recent legislative session, Senator Harmon supported historic school funding reform that overhauled Illinois' worst-in-the-nation school funding formula, replacing it with one of the most progressive systems in the country. He also worked tirelessly to bring an end to the state's two-year budget standoff, finally bringing relief in the form of a responsible, balanced budget. After working for 15 years on the issue, Senator Harmon also advanced a landmark measure allowing Illinois to license gun dealers.
Senator Harmon currently is serving his fifth term in the Illinois Senate. In 2011, Senate President Cullerton appointed him president pro tempore, offering him a key role in shaping policy and moving legislation through the Senate. Senator Harmon serves as chairman of the Senate's Executive Committee and vice-chairman of the Assignments Committee. He also is a member of the Senate's Criminal Law and Judiciary committees.