Published: Friday, June 02, 2017 10:39 PM
Rehabilitated constituent, now a doctoral student, turned down for job because of criminal record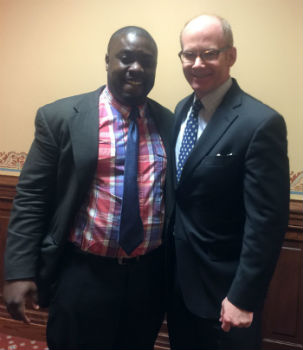 Quintin Williams has a dynamite resume, one that many employers would shuffle to the top of the pile of applicants.
The fourth-year Loyola University student is earning a doctorate degree in sociology. He teaches as part of his fellowship, and his students – his "kids," as he calls them – give him overwhelmingly positive evaluations for his work in the classroom. He is 33 years old, married and has a 4-year-old son.
But following a recent interview for a teaching position, he learned he wouldn't be hired because "they didn't want their students to be influenced by 'someone like me,'" he recalled Wednesday.
That's because Williams is forever bound to a record for crimes he committed as a teenager and in his early 20s – crimes that he acknowledges were wrong and for which he paid his debt to society.
Since then, thanks in large part to his faith and to the countless people who saw potential in him along the way, Williams has dedicated himself to his work, his studies and his family. He's stayed out of trouble, worked several jobs, earned college degrees and participated in anti-violence efforts.
"It just hurt my feelings," Williams said of the sting of the words "someone like you" when he was turned down for the teaching job. "I thought, they don't even know me. Did they read the evaluations my kids wrote or about the impact I had on their lives? I take my job seriously."
Senator Don Harmon, an Oak Park Democrat, believes it is unfair for every adult who committed crimes as youth to be denied employment, housing and educational opportunities for the rest of their lives. He sponsored legislation that makes it easier for people to have certain arrests sealed by a judge in Illinois, thereby eliminating an unnecessary, unfair, lifetime barrier to those opportunities. The measure passed in the Senate Tuesday and will go to the governor's desk.
"We're not letting just anybody seal any criminal record. We're creating a process by which somebody can go to court and request their records sealed, and a judge will make that determination," said Harmon, who is Williams' state senator.
"It goes against the whole idea of paying your debt to society that we have barriers that shackle men and women to a document that forever deprives them of employment, housing and education that enables them take care of themselves and their families."
The National Employment Law Project estimates, using U.S. Department of Justice statistics, that 42 percent of Illinois adults have a criminal record, whether it's an arrest or some other brush with the law.
Rep. Camille Lilly (D-Chicago) sponsored the legislation in the House. It is an initiative of The Restoring Rights and Opportunities Coalition of Illinois, which includes the Heartland Alliance, Cabrini Green Legal Aid, the Community Renewal Society, the Chicago Coalition for the Homeless, and the FORCE Project (Fighting to Overcome Records and Create Equality).
Williams thanked Harmon and Lilly for being consistent champions of the initiative and shepherding it through the General Assembly. He said he intends to petition a judge to seal his record should the legislation be signed into law by the governor. He just started a new job as a workforce research and policy fellow with the Heartland Alliance, and his career plans include policy and human services work combined with teaching.
"This bill will give me opportunities without facing the stigma of something I did long ago," Williams said. "And it will help thousands of other people who are way more talented than me and better than me in many ways by giving them opportunities to give back to the world, as well."
Pictured above: Quintin Williams meets with State Senator Don Harmon (D-Oak Park) at the Illinois State Capitol in Springfield on Tuesday, May 30.
Category: News