Published: Thursday, May 30, 2019 07:52 PM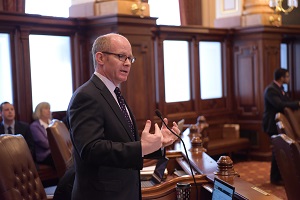 SPRINGFIELD – State Senator Don Harmon (D-Oak Park) passed legislation in the Senate today that would prevent local law enforcement officers from becoming deputized federal immigration enforcement agents.
The Keep Illinois Families Together Act would prohibit state and local law enforcement agencies and officers from entering into or remaining in an agreement with U.S. Immigration and Customs Enforcement in order to enforce federal immigration law.
"With the toxic rhetoric surrounding immigration coming from the White House, people in my district are scared," Harmon said. "This legislation takes a small step toward easing that fear by making sure they feel comfortable seeking assistance from police or reporting crimes."
This legislation builds on a law passed last year, the Trust Act, that prohibits local law enforcement from detaining someone solely on the basis of their immigration status.
House Bill 1637 passed the Senate and awaits the governor's signature.
Category: News