Published: Tuesday, May 09, 2017 10:29 AM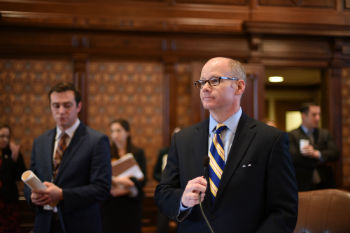 An effort to foster trust between Illinois police agencies and immigrants who live in the state passed out of the state Senate Thursday.
Local police should not have to do the federal government's job, and immigrants should not have to live in fear of local police, Senator Don Harmon (D-Oak Park) said after casting a vote for Senate Bill 31, which would create the Illinois Trust Act. Harmon is a chief co-sponsor of the legislation.
"Illinois has long been a state that welcomes people from all nations. It's one of the things I love the most about this state," Harmon said. "But in this time of fear and uncertainty for many immigrants who live in our communities, it is important that we take steps to foster trust between local authorities and immigrants who have done nothing wrong and have nothing to hide."
The point of the Trust Act is simple: immigrants in Illinois should be able to pick up their children from school or go to the hospital without fear of arrest, and state and local police officers should be assured they're not expected to enforce federal immigration laws. The act would:
clarify that state and local police are not deputized immigration agents and therefore are not expected to expend resources enforcing or complying with federal civil immigration detainers and administrative warrants;
prohibit state and local police from searching, arresting or detaining a person based solely on citizenship or immigration status or an administrative warrant;
prohibit law enforcement agencies from using state resources to create discriminatory federal registries based on race, national origin, religion or other protected classes; and
establish safe zones at schools, medical facilities and properties operated by the Illinois secretary of state, where federal immigration enforcement would not be admitted without a valid criminal warrant.
The measure also would establish deadlines for police to complete certification forms that are requested by immigrant victims of violent crimes who cooperate with police. The certifications are among the requirements for immigrant crime victims to apply for certain visas.
The act would not bar state and local police from conducting valid criminal investigations or serving criminal warrants, nor would it bar them from working with federal immigration agents to serve valid criminal warrants.
Several Illinois communities, including Oak Park, have passed "welcoming ordinances" in recent months that bar local authorities from collaborating with federal immigration officials to identify and apprehend undocumented citizens without a criminal warrant.
"Everyone should feel like they can go to the police when they need help or have something to report," Harmon said. "Unfortunately, the president's hateful rhetoric has had a chilling effect on immigrants' willingness to come forward and report crimes because they're afraid of being deported. We can't allow that to stand."
The Trust Act passed the Senate in a vote of 31-21 Thursday evening.
Category: News