Published: Friday, April 22, 2016 01:36 PM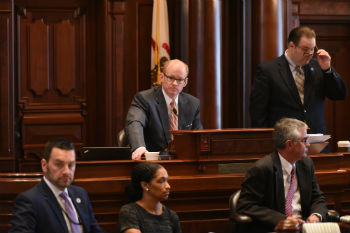 Senator Don Harmon (D-Oak Park), president pro tempore of the Illinois Senate, released the following statement regarding his vote today to approve emergency funding for Illinois universities and human service providers:
"Today the General Assembly voted for intermediate funding to offer some temporary relief for state universities and human service providers that face closure as we continue trying to find areas of compromise with Gov. Rauner.
"The most unfortunate part of today's vote is that the governor has legislation on his desk that would fully fund universities and human service agencies, rather than give them just enough to keep their doors open for the short term.
"I am frustrated that the state of Illinois' budgeting process has devolved into a system of bandages and short-term bail outs. 'A fraction of funding is better than zero funding' is no way to approach budgeting for state government."
Category: News