Published: Thursday, August 10, 2017 09:54 AM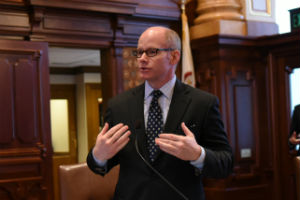 SPRINGFIELD – Illinois taxpayers, public universities and state agencies will benefit from Senator Don Harmon's (D-Oak Park) bipartisan measure to streamline the state's purchasing rules.
Senate Bill 8, which was signed into law yesterday, changes the way state government purchases goods and services.
"This new law streamlines the state purchasing process, cuts red tape and saves taxpayer dollars," Harmon said. "State universities will now be able to purchase products without having to jump through unnecessary and costly hoops."
The legislature enacted a series of strict procurement reforms in the aftermath of the George Ryan and Rod Blagojevich administrations because of questions over how they handled contracting, bid-letting and transparency for state business.
But the rules may have gone too far, sacrificing some efficiency and savings in an effort to deter corruption, Harmon said.
"Strict state purchasing rules have created more red tape in government and led to more harm than good," Harmon said. "Rather than save money for the state, the rules frequently have caused them to waste more money and time than an average business would."
Procurement reform is one of several measures Harmon sponsored that would streamline government processes and save taxpayer dollars.
Senate Bill 8 is effective immediately.
###
Category: News