Published: Tuesday, July 01, 2014 12:08 PM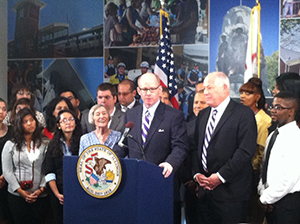 SPRINGFIELD – A new law signed by the governor today will make it even easier and more convenient for citizens to vote in the upcoming general election. The law expands opportunities to vote early and to vote by mail. It also creates a one-year pilot program that allows grace period voting on Election Day.
"Voting is a right and a vital part of our country's social and political fabric," said State Senator Don Harmon (D-Oak Park), who sponsored the new law. "To encourage people to participate, we should be doing everything we can to make it easier to vote without weakening the integrity of the voting system."
The new law is part of Senator Harmon's continued efforts to bring Illinois' voter registration laws into the 21st century by making it easier for citizens to register and to vote. Last year, he passed a law allowing Illinois citizens to register to vote online. That service is now available at https://ova.elections.il.gov/.
Category: News