Published: Wednesday, November 30, 2016 08:07 PM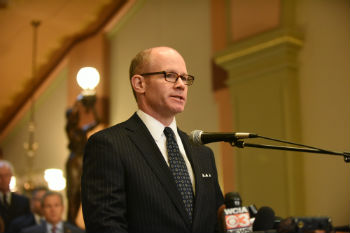 SPRINGFIELD – Senator Don Harmon (D-Oak Park) and a bipartisan group of Springfield lawmakers today called for renewed contract negotiations between Gov. Bruce Rauner and the union that represents 38,000 Illinois state workers.
Harmon noted his support of a measure that would have allowed interest arbitration in the event of an impasse between Rauner, whose anti-union sentiments are well documented, and the American Federation of State, County and Municipal Employees.
"Twice I passed a bill that would provide for interest arbitration. Twice the governor vetoed that bill, and twice the General Assembly failed to override the veto," Harmon said. "The governor's rationale at the time was that he was willing to stay at the bargaining table and negotiate a deal. That sentiment appears to have vanished."
AFSCME – the American Federation of State, County and Municipal Employees – is the largest union representing state government employees. No contract negotiations between the Rauner administration and the union have occurred since Jan. 8, 2016, when the administration claimed the parties were at impasse.
More than 30 state lawmakers of both parties and both houses of the Legislature gathered for a news conference Wednesday to show their support for continued good-faith negotiations between the administration and union representatives to avert a labor disruption and bring about an acceptable compromise.
"I think it is critically important to the people of Illinois that we try to reach an agreement that is fair to everyone and enables us to continue to provide vital services," Harmon said, adding that Gov. Rauner is not practicing what he preaches when he refuses to participate in negotiations.
"The governor is demanding that the legislative leaders join him at a bargaining table every day to discuss his agenda and its impact on our state budget," Harmon said. "I would hope that he would hold himself to that same standard in negotiating with the union and return to the bargaining table immediately."
Category: News