Published: Wednesday, November 16, 2016 04:45 PM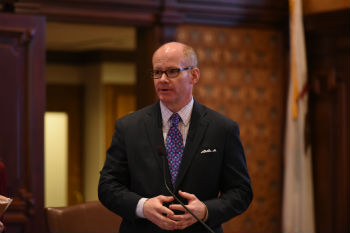 Senator Don Harmon (D-Oak Park) issued the following statement today following the state Senate's vote to override Gov. Bruce Rauner's veto of automatic voter registration in Illinois:
"Automatic voter registration is a commonsense, good-government measure that streamlines services and saves money while requiring state bureaucracy to work for the people, not the other way around. There is no reason to force citizens to interact with state government twice when once will do the job. We can offer one-stop shopping – you get your driver's license and you're registered to vote.
"Automatic voter registration is a logical next step in our ongoing efforts to expand the franchise in Illinois and encourage people to participate in elections. It would alleviate the need for same-day registration, put an end to duplicative government paperwork, save the taxpayers money and make life easier for the people of Illinois."
Harmon is a longtime ambassador for efforts to expand voter access in Illinois, sponsoring measures to bring early voting, online voter registration, vote-by-mail and same-day voter registration to the state.
As a result of those efforts, this year nearly 60,000 Illinoisans took advantage of grace-period voter registration (Oct. 24 until Election Day), according to Election Day figures compiled by the Illinois State Board of Elections. In at least two Chicago-area counties, lines for same-day voter registration reportedly topped out at two hours, and in Carbondale in southern Illinois more than 700 people took advantage of same-day registration.
Online voter registration continues to be a popular option with voters, as well, with some 62,000 people throughout the state registering during one weekend in late October alone, according to a Board of Elections spokesman.
Harmon is a chief co-sponsor of Senate Bill 250, the automatic voter registration bill, which garnered broad bipartisan support in both houses of the Legislature in the spring but was vetoed during the summer by Republican Gov. Bruce Rauner.
Category: News