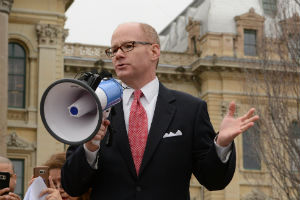 SPRINGFIELD – Fifteen years after State Senator Don Harmon (D-Oak Park) first introduced similar legislation, the Illinois House voted 64-52 yesterday to pass his measure requiring gun dealers to be licensed by the state.

"When I first introduced the gun dealer licensing bill, I thought we'd be having this celebration a lot sooner," Harmon said. "After all the work we've done with advocacy groups over the years, I'm thrilled that we've finally been able to advance this commonsense gun law to try to take some illegal guns off our streets."

The Gun Dealer Licensing Act would allow Illinois to license gun dealers and encourage better business practices while holding corrupt dealers accountable as authorities try to get a handle on the violence epidemic prevalent in Chicago neighborhoods and across the state.

Today's vote coincided with a rally hosted by the gun reform advocacy group Moms Demand Action that drew 500 supporters to the steps of the Illinois Capitol.

"We come together today to say, 'Enough!'" said Lauren Quinn, leader of the Central Illinois chapter of Moms Demand Action. "We demand more than thoughts and prayers from our lawmakers. We are here today to tell them that we need action."

Harmon's district includes portions of the West Side of Chicago, an area that has been plagued with gun violence for years. As of Monday, 349 people have been shot in Chicago this year.

"There's no one law that's going to solve all our problems, but other states that have adopted similar licensing requirements have seen a 65 percent reduction in guns used in crimes," Harmon said. "I can only hope we reach that number, but I know this bill will at least keep some guns off the street and some young people alive."

Senate Bill 1657 now moves to the governor's desk.