Published: Wednesday, May 30, 2018 08:14 PM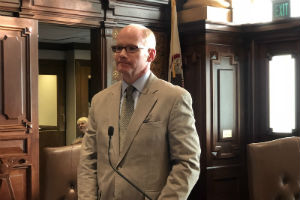 SPRINGFIELD – A bipartisan plan to regulate gun dealers and reduce the number of illegal guns being used to commit crimes in the state was sent to the governor today.

Senate Bill 337, sponsored by State Senator Don Harmon (D-Oak Park), is the result of a bipartisan compromise that took place after Gov. Bruce Rauner vetoed a similar measure on March 13.

"This bill took into consideration the governor's concerns about red tape," Harmon said. "Seeing the bipartisan support it received in both the House and the Senate, I look forward to the governor honoring his commitment to public safety and signing it into law."

Senate Bill 337 contains provisions to better record and track private gun sales. It treats all firearm licensees the same, regardless of their size. It requires the Illinois State Police, rather than the state agency that regulates professions and occupations, to certify gun dealers.

Additional provisions in the bipartisan proposal include:

• requiring gun dealers to safely store firearms at all times,
• requiring gun dealers to make copies of FOID cards or IDs and attach them to documentation detailing each gun sale,
• requiring employees to undergo annual training about the law and responsible business practices, and
• requiring gun dealers to open their place of business for inspection by state and local police.

Senate Bill 337 passed both the House and the Senate on a bipartisan vote and heads to the governor's desk for consideration.
Category: News