Published: Wednesday, May 02, 2018 02:36 PM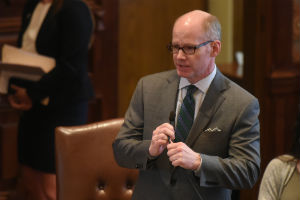 SPRINGFIELD – State Senator Don Harmon (D-Oak Park) passed legislation today that would create safe zones in Illinois in which immigration enforcement is limited.

The measure requires the attorney general to put in place a model policy by April 1, 2019, on limiting assistance with immigration enforcement to the fullest extent permissible at locations including state-funded schools, state-funded medical treatment and health care facilities, public libraries, facilities operated by the secretary of state and state courts.

These safe zones were in the original version of the Trust Act that passed the Senate but were amended in the House and not in the final version signed by Gov. Bruce Rauner last year.

"I represent a diverse district that includes immigrant families who make invaluable contributions to their community," Harmon said. "I want my constituents to feel safe when they do routine things like visit the doctor or take their children to school, not fear that they'll be treated like criminals."

A 2014 study by the Illinois Coalition for Immigrant and Refugee Rights found that roughly 68 percent of undocumented immigrants participate in the labor force in Illinois, a higher rate than that of the general public (66 percent).

According to a 2011 memorandum, it is the U.S. Immigration and Custom Enforcement's official policy to avoid enforcement activities at "sensitive locations" like schools, day cares, medical facilities and courthouses. This guidance is nonbinding, however, and the Illinois Supreme Court has recorded numerous arrests of immigrants at courthouses in the past year.

"I believe the current political climate has left immigrants feeling horribly vulnerable," Harmon said. "I hope this legislation gives them a sense of security in the state they call home."

Senate Bill 35 passed the Senate 31-16 and now heads to the House for consideration.
Category: News