Published: Tuesday, May 15, 2018 01:13 PM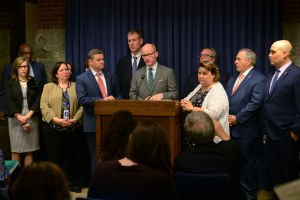 SPRINGFIELD – State Senator Don Harmon (D-Oak Park) joined Democratic and Republican lawmakers today to announce a new effort to tackle the issue of illegal guns being used in crimes in Illinois.

The legislation, Senate Bill 337, incorporates portions of Harmon's Gun Dealer Licensing Act, which Gov. Bruce Rauner recently vetoed, as well as provisions to better record and track private sales.

"We took seriously concerns about the bureaucracy included in the Gun Dealer Licensing Act," Harmon said. "This legislation provides much-needed oversight on gun purchases without creating a new bureaucracy."

Harmon's measure would require the Illinois State Police, rather than the Illinois Department of Financial and Professional Regulation, to certify dealers.

The legislation also treats all firearm licensees the same, eliminating exemptions for small and large dealers to focus on their actions, not their size.

To crack down on illegal transfers after a gun is purchased, the measure puts in place a penalty for individuals who fail to maintain a record of a private sale and requires State Police to make key information about guns used in crimes available to the public.

"We recognize that blame does not lie solely on the dealer when someone uses a gun to commit a crime," Harmon said. "By certifying gun dealers and implementing better practices to track straw purchasers, we hope to be able to make it harder for someone to use an illegal gun to commit a crime."

Several key provisions from the Gun Dealer Licensing Act are :

• requiring gun dealers to implement a safe storage plan for firearms during retail hours and after closing,
• requiring the posting of signage reminding employees and customers to keep guns out of the hands of people who shouldn't have access,
• requiring certified licensees to make a copy of the buyers or transferee's valid FOID card or ID and attach it to the documentation detailing the sale,
• requiring employees to have annual training regarding legal requirements and responsible business practices,
• and requiring certified licensees to have their place of business open for inspection by the State Police and local law enforcement.

Senate Bill 337 awaits action in the Senate.
Category: News