Published: Thursday, April 26, 2018 04:07 PM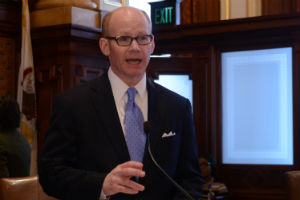 SPRINGFIELD – Legislation to decrease opioid dependence by increasing access to medical alternatives passed the Senate today.

Senator Don Harmon (D-Oak Park) passed the Alternatives to Opioids Act out of committee earlier this year and worked closely with the Illinois Department of Public Health to address remaining concerns before bringing it to the Senate for a vote.

The measure adds any condition for which opioids could be prescribed to the list of qualifying conditions for the state's medical cannabis program, allowing individuals who might otherwise use an opioid to participate in the program.

"Opioid addiction is one of the most pressing public health issues in our state," Harmon said. "It kills thousands of Illinoisans every year and costs the state nearly $1 billion. We should be open to any reasonable solution to tackle it."

The legislation creates a pilot program that allows patients to take a physician certification to a dispensary to receive medical cannabis. Patients can participate in the program and use medical cannabis to help them transition off their initial opioid prescription or to treat their pain without ever using opioids.

A study conducted by the Centers for Disease Control last year found that a patient can become addicted to opioids within a week or even a few days of use.

"We know that medical cannabis is a safe alternative treatment for the same conditions for which opioids are prescribed," Harmon said. "This legislation aims to stop dependence before it begins by providing an immediate alternative."

Dispensaries would be required to verify the physician certification and dispense medical cannabis in set amounts based on the recommended duration of the opioid prescription. The patient would be given an endorsement card indicating that they are in lawful possession of medical cannabis.

Senate Bill 336 passed the Senate 44-6 with bipartisan support and will now head to the full Senate for consideration.
Category: News