Published: Tuesday, June 03, 2014 10:52 AM
Gives psychologists limited prescription authority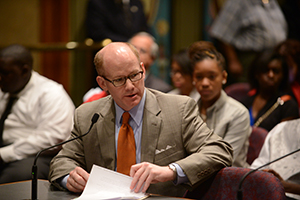 SPRINGFIELD – Illinois faces a shortage of primary care physicians, particularly in the field of mental health. State Senator Don Harmon (D-Oak Park) is taking on this problem by giving psychologists – under the careful supervision of doctors – the ability to prescribe some mental health medication.
"We need to do a better job of treating mental illnesses the same way we do physical maladies," Harmon said. "When someone needs help, they can't always wait weeks or travel great distances. Mental health care shortages can cost lives and cause needless suffering."
Harmon's legislation, Senate Bill 2187, allows psychologists who are willing to undertake additional rigorous training to prescribe certain medications commonly used to treat mental illness, such as Prozac.
Category: News