Published: Wednesday, June 25, 2014 04:02 PM
Gives psychologists limited prescription authority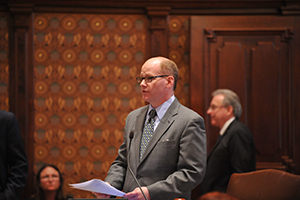 SPRINGFIELD – A law signed by the governor today will help address Illinois' shortage of mental health professionals. The law, sponsored by State Senator Don Harmon (D-Oak Park), gives psychologists – under the careful supervision of doctors – the ability to prescribe some mental health medication.
"People who suffer from mental illnesses need treatment," Harmon said. "They can't always wait weeks or travel great distances. We have to do something to make mental health care more accessible in rural communities and lower-income neighborhoods."
The new law, originally Senate Bill 2187, allows psychologists who are willing to undertake additional rigorous training to prescribe certain medications commonly used to treat mental illness, such as Prozac.
Category: News