Published: Monday, March 31, 2014 09:56 AM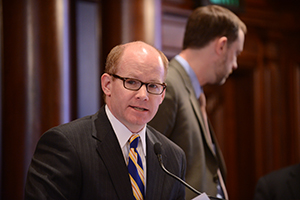 SPRINGFIELD – At a major Senate budget hearing this morning, Illinois' state agencies laid out their plans for addressing a 20 percent across the board funding cut, resulting from an anticipated multibillion dollar budget deficit next year. State Senator Don Harmon (D-Oak Park) finds the situation unacceptable.
"Our state cannot turn its back on fulfilling its basic responsibilities," Harmon said. "Look at education alone. The State Board anticipates completely eliminating early childhood education, cutting off 90,000 children from preschool. It's incredibly shortsighted to put an entire generation at risk to balance the state budget."
Eliminating the Early Childhood Block grant will only get the State Board of Education one-third of the way to the nearly $1 billion budget cut it needs to stay in the black. School districts throughout the state will lose funding, as will other vital programs.
Category: News