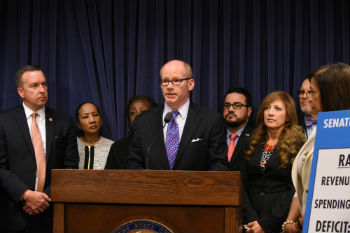 Today marks Day 6 in the 10-day special legislative session convened in an effort to reach agreement on a state budget.
It may not appear that much has been happening on that front, but the four legislative leaders met Sunday – without Gov. Rauner – for the first time in months to talk about the budget. This is a significant development. The last time the leaders were in a room together to discuss the budget was Dec. 6.
As many of you know, in May the Senate passed a responsible, balanced budget and reform package – much of it based on priorities set by Gov. Rauner – and sent all of those bills to the House for consideration in an effort to bring stability to the state as soon as possible. The House did not to vote on any of the Senate's bills before the May 31 deadline.
I have been engaged daily in discussions with other state lawmakers and with the Senate president about possible changes to our budget and reform bills that we could accept, and we are proposing ideas that could help to move the process along so that we can send a budget to the governor's desk by Friday, the final day of the fiscal year.
I have every reason to believe the governor and my colleagues in the General Assembly understand the gravity of the situation we face and are ready to engage productively in good-faith budget negotiations.
Today also marks 726 days since Illinois last operated with a full-year budget. Here is what's at stake if Gov. Rauner cannot come to an agreement with lawmakers on a budget by midnight Friday:
As you can see, the damage being done to Illinois is unnecessary, expensive and cruel. It will take generations to repair.
I urge you to contact the governor's office this week and tell him to put a stop to this madness by finding common ground with lawmakers before Friday on a responsible, full-year budget that prioritizes financial stability for Illinois. The most hopeful starting point for negotiations is the balanced budget and reform package the Senate passed in May.
Learn more about the Senate's budget and reform measures here.
As always, I encourage you to stay in touch. Should you have any questions this week, please contact my district office at 708-848-2002 or my Springfield office at 217-782-8176. You also can email my office, find me on Facebook and follow me on Twitter.