Published: Tuesday, February 19, 2019 03:33 PM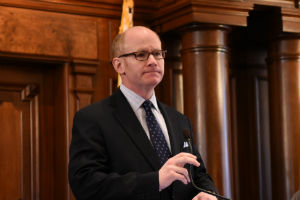 SPRINGFIELD – State Senator Don Harmon (D-Oak Park) praised his colleague Senator Kimberly Lightford and advocates for their years of hard work as Gov. JB Pritzker signed legislation into law that will raise the minimum wage in Illinois to $15 per hour by 2025.
"Working wages have not kept up with inflation in our state or around the country, and I am thankful to Senator Lightford and the advocates who spent years fighting for a wage increase." Harmon said. "I am glad Illinois is a leader in the Midwest on this issue, but we must keep fighting for dignity and stability for workers."
Senate Bill 1 will gradually raise the minimum wage from the current $8.25 per hour to $15 per hour by 2025.
The new law represents a compromise with business groups and includes a payroll tax credit to assist employers in implementing the wage increase.

Senate Bill 1 takes effect immediately.