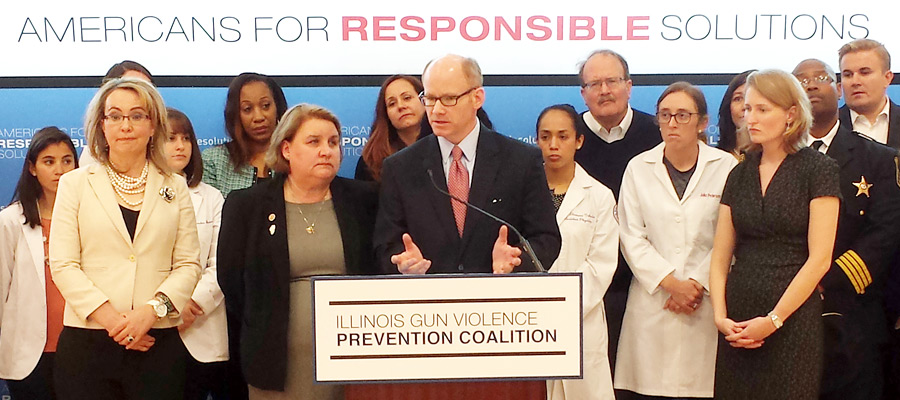 CHICAGO — Illinois State Senator Don Harmon (D-Oak Park) and former Arizona Congresswoman Gabrielle Giffords on Thursday called for greater accountability from Illinois gun dealers in an effort to curb violent crime with illegally purchased guns in Chicago and elsewhere in the state.
Harmon is the Senate sponsor of legislation that would give state authorities and police agencies the tools they need to encourage better business practices by federally licensed gun dealers, while holding corrupt gun dealers accountable.
During a news conference in Chicago announcing the formation of a new statewide effort known as the Illinois Gun Violence Prevention Coalition, Harmon noted that licensed gun dealers are an important link between gun manufacturers and the public. While most Illinois gun dealers strive to be responsible and do the right thing, he said, other dealers are negligent and engage in practices that fuel illegal gun trafficking.
"Yes, many guns are being trafficked into our communities from outside of the state. But consider this: 40 percent of guns used in crimes in Chicago between 2009 and 2014 came from Illinois," Harmon said. "And the state of Illinois doesn't have the tools and authority it needs to combat illegal or negligent business practices that threaten Illinois families."
The legislation, which is expected to be filed in the Legislature next week, would make the following changes to Illinois law:
— Require criminal background checks for gun dealer employees, who have access to large inventories of guns.
— Require training and education for gun dealer employees so the background check system can work better. Employees need to know how to conduct background checks, identify and stop straw purchases of firearms, and properly store guns to prevent thefts.
— Demand additional accountability from gun dealers by enabling state and law enforcement officials to inspect inventories of licensed gun dealers for missing firearms.
"This type of effort is long overdue in Illinois. We've been working on these issues for a long time, and we've learned a lot," Harmon said.
"But the obvious fact to me is that often between a gun manufacturer and a crime scene is someone reporting to be a law-abiding gun owner who is not. This legislation is a commonsense response to a gun violence epidemic that is destroying families and communities."
Giffords, who survived a 2011 assassination attempt during a meet-and-greet event with constituents in Tucson, and her husband, retired astronaut Mark Kelly, co-founded Americans for Responsible Solutions, which advocates for commonsense solutions to gun violence in America. Giffords and Kelly are gun owners.
During an appearance in Chicago Thursday with Harmon and gun violence prevention advocates, Giffords encouraged Illinois to fight for sensible change.
"Now is the time to come together, be responsible – Democrats, Republicans, everyone," she said. "We must never stop fighting. Fight, fight, fight. Be bold. Be courageous. The nation's counting on you."
Illinois Representative Kathleen Willis (D-Northlake) is sponsoring the legislation in the House.