Published: Thursday, April 11, 2019 03:32 PM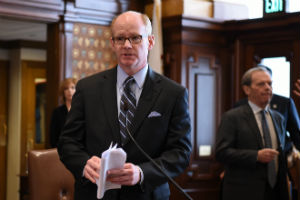 SPRINGFIELD – State Senator Don Harmon (D-Oak Park) advanced legislation today that would set a statewide standard for alcohol delivery from retailers.
Senate Bill 54 would allow grocery stores and other licensed retailers to alcohol to the homes of consumers if certain conditions, including age verification and training, are met.
"More and more people are ordering their groceries online," Harmon said. "We want to keep up with this modern way of shopping and make sure that any retailers who want to provide this service to their customers are confident that they will be able to deliver anywhere in the state."
Harmon said he is continuing to meet with working groups to finalize the legislation as it is considered in the House.
Senate Bill 54 passed the Senate without opposition and heads to the House.
Category: News