Published: Wednesday, February 20, 2019 01:29 PM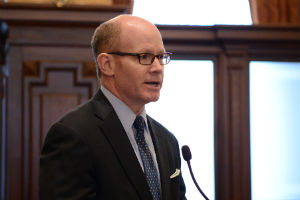 SPRINGFIELD – State Senator Don Harmon (D-Oak Park) released the following statement after Gov. JB Pritzker delivered his first budget address on Wednesday:
"With our state still billions of dollars in debt, it is refreshing to hear our governor highlight what's good in Illinois and propose a budget that continues our path toward stability.
"I am especially encouraged by the governor's support for a fair income tax. Our current flat tax is antiquated and gives us little ability to enact the kind of long-term change needed to pay our bills and reduce the tax burden on the majority of Illinoisans.
"Illinois' financial issues will not be solved in one year or by one person, but I am committed to working with Gov. Pritzker to continue our effort to restore stability to our state."
Category: News