Published: Wednesday, May 30, 2018 09:29 PM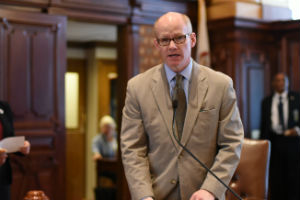 SPRINGFIELD – State Senator Don Harmon (D-Oak Park) voted today to approve a bipartisan, balanced budget.

The budget is balanced through a combination of spending cuts and pension reform. It restores funding to vital human service programs and fully funds K-12 and higher education.

"It is a breath of fresh air to vote on a budget package that was the result of bipartisan negotiations rather than partisan bickering," Harmon said. "I am encouraged by our efforts to continue the stability we put in place last year, and I hope the people of Illinois are as well. "

Included in the budget is $350 million in new funding for public schools, in line with the new education funding formula passed last year, as well as $50 million for early childhood education.

The plan also rolls back Gov. Bruce Rauner's 10 percent cut to the Local Government Distributive Fund, resulting in approximately $120 million more for municipalities.

Funding is restored to human services programs, including: community mental health centers, youth employment services, addiction treatment and prevention services and the Child Care Assistance Program.

"This is a responsible budget that was crafted in a responsible manner," Harmon said. "I urge Gov. Rauner to follow the example of his Republican colleagues in the House and Senate and sign this into law."

The budget package now moves to the House for final approval before heading to the governor's desk.
Category: News