Published: Wednesday, April 11, 2018 09:13 AM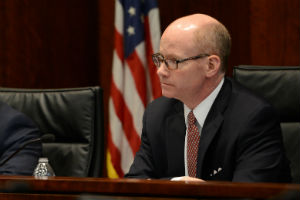 SPRINGFIELD – State Senator Don Harmon (D-Oak Park) passed a measure out of committee today that would create safe zones from immigration enforcement in Illinois.

The legislation prohibits state and local law enforcement from carrying out federal immigration efforts at locations including state-funded schools, state-funded medical treatment and health care facilities, public libraries, facilities operated by the Secretary of State, and state courts.

These safe zones were in the original version of the Trust Act that passed the Senate but were amended in the House and not in the final version signed by Gov. Bruce Rauner last year.

"Immigrants in Illinois are hardworking people who contribute to our communities," Harmon said. "They have built their homes here. They are raising their families here. They should be treated like human beings, not taken away like criminals when they drop their children off at school."

According to a 2014 study by the Illinois Coalition for Immigrant and Refugee Rights, roughly 68 percent of undocumented immigrants participate in the labor force in Illinois, a higher rate than that of the general public (66 percent).

Harmon's measure also prohibit applications for state benefits from asking for information related to citizenship or immigration status unless otherwise required by law.

Senate Bill 35 passed the Senate Judiciary Committee 8-4 today and moves to the full Senate for consideration.
Category: News