Published: Tuesday, March 13, 2018 04:31 PM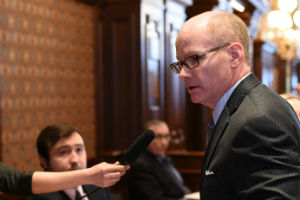 CHICAGO –State Senator Don Harmon (D-Oak Park) issued the following statement in response to Gov. Bruce Rauner's veto of the Gun Dealer Licensing Act:

"The governor must be much more concerned about his immediate political prospects than we thought, because he decided to be a lap dog for the NRA today rather than listen to the people he represents.

"Eighty-five percent of Illinoisans support licensing gun dealers. Governor Rauner has decided to be the governor of the nine percent who don't.

"Tomorrow, students across the country will stand up and beg elected officials to do their job and protect schools from gun violence. By issuing this veto on the eve of those demonstrations, the governor is telling them that he has no intention to live up to that responsibility."

The Gun Dealer Licensing Act passed the Senate last April and passed the House in February with bipartisan support.
Category: News