Published: Monday, March 12, 2018 03:40 PM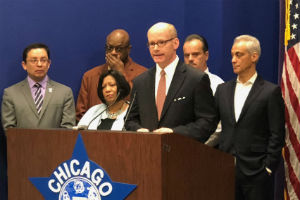 CHICAGO –State Senator Don Harmon (D-Oak Park) today joined Mayor Rahm Emanuel, Chicago Police Department Superintendent Eddie Johnson, fellow legislators, gun violence prevention advocates and victims of gun violence in calling on Gov. Bruce Rauner to sign the Gun Dealer Licensing Act.

The measure would allow Illinois to license gun dealers, holding corrupt dealers accountable and cracking down on straw purchases. According to a 2014 report from the University of Chicago Crime Lab, almost 20 percent of all guns recovered from crimes scenes in Chicago from 2009-2013 came from three of the state's 2,400 dealers.

At a press conference this morning, Harmon said the measure is not only good policy, but also has broad public support.

"If the public policy doesn't convince the governor, I hope that perhaps the politics will," Harmon said. "Eighty-five percent of Illinoisans want this bill signed. He should sign it today. We'll even give him the pen."

Senate Bill 1657 passed the Senate last April and the House last month with bipartisan support. Rauner has yet to indicate whether he intends to sign it into law.

State Senator Kwame Raoul (D-Chicago), who cosponsored the measure, joined Harmon at today's press conference and shared the impact gun violence has had on his life.
"I joined this journey because I experienced gun violence directly outside my home," Raoul said. "This is personal. I struggle with why this is being politicized into a difficult decision. This is a simple decision about accountability."
CPD Superintendent Johnson called the measure "commonsense legislation" and said he was proud to lend his voice to the group calling on the governor to sign it into law.
"As a Chicago police officer, I've seen guns tear apart families and cut lives far too short for 30 years. Last month, I had the difficult task of delivering the tragic news to Commander Paul Bauer's family after he was murdered by a repeat offender." Johnson said. "This bill won't bring back our loved ones or Commander Bauer, but it's the least we can do to show their families that we remember them and are fighting for their memories and legacies."
Emanuel suggested that Rauner, with his reluctance to make a commitment on the legislation, is putting politics ahead of the people of Illinois.
"The governor may be thinking of the primary election, but we are thinking of the primary responsibility he has to keep us safe," Emanuel said. "Here in Illinois, we license car shops. We license liquor shops. We license barber shops. We now have a chance, if the governor would sign the bill, to license gun shops. All eyes are on the governor."

Senate Bill 1657 was delivered to the governor's desk on March 1. If he does not sign or veto it in 60 days, it automatically becomes law.
Category: News