Published: Tuesday, February 13, 2018 01:22 PM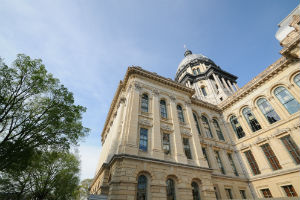 SPRINGFIELD – The day before Governor Rauner's budget address, Illinois House and Senate Democratic caucuses are uniting once again to reintroduce the Illinois Comeback Agenda. This year, the group of rank-and-file legislators has narrowed their agenda to focus on creating and supporting good, safe Illinois jobs.
The lawmakers developed the policy agenda to focus four areas key to working Illinoisans' ability to build economic security.

• Better wages – someone working full time should not be struggling to get by.
• Better benefits – basic benefits like paid sick leave, fair scheduling and protections against wage theft give workers job security and keep workplaces safe.
• Investing in Illinois – we can be smarter with our tax incentives, and reclaim money from corporations who take significant tax breaks and then ship jobs out of Illinois.
• Inclusive Infrastructure – construction and capital projects must prioritize hiring historically disenfranchised populations, and prioritize in historically disenfranchised communities.
These rank-and-file lawmakers first introduced the Illinois Comeback Agenda last year, and say they joined together again to narrow the scope for a more focused approach. The group says their agenda, in part, is in response to the governor's focus on job creation.
"When I talk to my constituents, when my colleagues talk to their constituents, we're all hearing the same thing," said Senator Don Harmon (D-Oak Park). "It all comes back to jobs. What is really missing from our discussion about job growth in Springfield, however, is the quality of jobs and people's ability to get by. Job growth can't just be about the number of jobs, it has to be about the kind of jobs that actually help people build economic security."
"We're glad the governor is focused on job growth," said Representative Carol Ammons (D-Champaign). "If we want real economic recovery in this state, we do need more jobs. But creating more and more low wage jobs without basic protections like sick leave keeps workers jumping from job to job, always struggling to get by. It doesn't have to be like that."
"Right now it feels as if we're measuring job growth by asking CEOs how happy they are here in Illinois," said Representative Will Guzzardi (D-Chicago). "It's almost as if we've forgotten that governing is about making Illinois a good place to live and work for everyone. What we're talking about here is pretty basic: working people should be able to support their families, stay home if they're sick, our tax dollars should benefit Illinois jobs, and our infrastructure projects should be smart and inclusive. Combined, these initiatives will give working Illinois families a fair shot."
Learn more about the Illinois Comeback Agenda at www.comebackil.com.
Category: News