Published: Wednesday, February 07, 2018 04:10 PM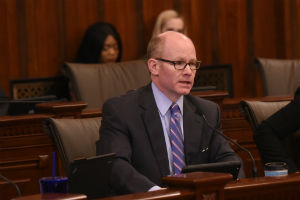 SPRINGFIELD – Legislation giving patients access to medical alternatives to prescription painkillers passed the Senate Executive Committee today.

Senator Don Harmon (D-Oak Park) introduced the Alternatives to Opioids Act to tackle the opioid crisis, an epidemic that killed more than 60,000 people nationwide last year.

The measure would allow people who have been prescribed opioids for a medical condition to apply for a temporary medical cannabis card instead.
"This is a common-sense method to address the issue of opioid addiction," Harmon said. "We know that medical cannabis is a safe alternative treatment for the same conditions for which opioids are prescribed."
Melissa Burton-Sanders testified to the committee that using medical marijuana to treat her multiple sclerosis symptoms instead of opioids has been a blessing.
"I am no longer in pain. I am a better parent," said Burton-Sanders, a mother of five. "I am present for my children and that is worth everything in the world to me.
Illinois created the Compassionate Use of Medical Cannabis Pilot Program in 2013 and is one of 29 states to have legalized medical cannabis.
Senate Bill 336 passed the Executive Committee 16-1 and will now head to the full Senate for consideration.
Category: News