Published: Monday, September 25, 2017 09:16 AM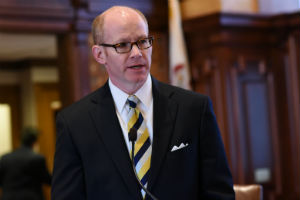 SPRINGFIELD – Senator Don Harmon (D-Oak Park) released the following statement today after withdrawing the hold he had placed on House Bill 40:

"The work of constituents and advocates who have urged the governor to sign this legislation appears to be having some effect, as the governor recently backed away from his promise to veto it. I believe Gov. Rauner understands that he has made a commitment to support women's reproductive rights, and I look forward to him signing this bill as it passed the General Assembly."

House Bill 40 protects the right of women to make decisions about their reproductive health by ensuring that abortion remains legal in Illinois even if Roe v. Wade is overturned.

The measure moves to the House now, which is expected to send it quickly to the governor's desk.
Category: News