Published: Friday, June 23, 2017 01:00 PM
Harmon: Burden of proof should be on government, not innocent property owners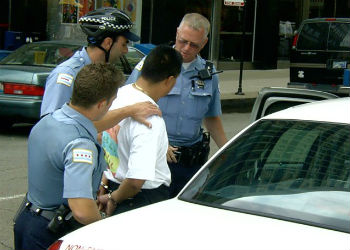 SPRINGFIELD – Legislation designed to restore people's trust in the civil asset forfeiture process in Illinois should be headed to the governor's desk soon.
The measure, sponsored in the Senate by Senator Don Harmon (D-Oak Park), was heavily negotiated with police, state's attorneys and civil rights groups, and it garnered bipartisan support among state lawmakers. The legislation passed unanimously in the Senate May 31, and the House took a final concurrence vote on it Friday.
The legislation (House Bill 303) seeks to end the controversial practice of "policing for profit," which incentivizes police and prosecutors to seize cash, cars, land and other property from people suspected of – but not necessarily charged with or convicted of – criminal activity under current state law. The property frequently is forfeited and auctioned off, with proceeds going into the government coffers.
"This is a dramatic step forward for Illinois, where government has had a green light to take your property and you have had to prove you deserve to get it back. That galls me," Harmon said. "We have more work to do to fine tune this law, but going forward the government will have to prove it has the right to take your property – not the other way around."
Critics of current state law cite numerous problems with it. For example, it's unclear if probable cause is a requirement for police to seize property in Illinois. Even if an owner is never charged or convicted of a crime, law enforcement agencies are not obligated to return property that was seized during an investigation.
Further, current state law makes it especially difficult for people to reclaim their property through the court system.
Harmon's measure would require more accountability of law enforcement agencies that seize property while investigating possible crimes and also demand more transparency on behalf of innocent property owners who want to get their belongings back by doing the following:
Improve the rights of property owners by placing the burden of proof on the prosecution instead of the property owner and creating an expedited process to have cases adjudicated more quickly.
Increase the government's burden of proof from probable cause to preponderance of the evidence.
Require the government to do more to ensure property owners receive notice of forfeiture proceedings and understand the steps they must take to argue for the return of their property.
Eliminate the requirement that property owners must pay a "cost bond" equal to 10 percent of the value of the seized property before their case can be heard by a judge.
Exempt small sums of cash from forfeiture and provide that mere possession of miniscule amount of drugs no longer will serve as a legal basis for forfeiture.
Provide for new data collection regarding property seizures and forfeitures. The information will be reported to the Illinois State Police, and the aggregated data will be posted online.
According to a 2016 report co-authored by the ACLU of Illinois and the Illinois Policy Institute, Illinois police agencies collect about $30 million every year from forfeited property.
Harmon noted that Illinois' asset forfeiture guidelines are written into 25 different laws that authorize police and state's attorneys to seize property in cases involving everything from drug investigations and money laundering to DUIs and basic traffic stops. The result is a convoluted system that can be difficult to navigate.
"I have read enough first-hand accounts from real people that have been through this process and feel so completely victimized by it that it makes you scratch your head," Harmon said. "I think the folks involved realize that trust in this system has been completely undermined, and that is why we all agreed to move forward with this reform.
"With this legislation, we struck a balance that ensures both sides – the government and the property owners – can make their claims, be heard quickly and resolve the issue."
Rep. Will Guzzardi (D-Chicago) sponsored the measure in the House. It is supported by the ACLU of Illinois, the Illinois State's Attorneys Association, the Illinois State Police, the Illinois Sheriff's Association and the Illinois Chiefs of Police.
Category: News