Published: Friday, June 02, 2017 10:48 PM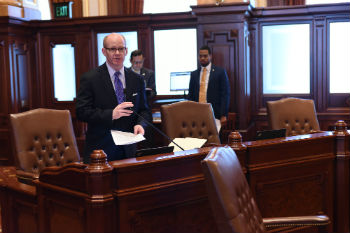 High-poverty suburban school districts, shortchanged for decades under Illinois' worst-in-the-nation education funding formula, could see a significant influx of funding to level the playing field with wealthier suburban districts under a landmark school funding reform measure that passed in both houses of the legislature this week.
"I proudly joined my colleagues in the General Assembly in voting for Senate Bill 1, which acknowledges the urgent need to reform Illinois' terrible method of funding public schools, while offering property tax relief and ensuring no schools see a loss of funding in the process," said Senator Don Harmon (D-Oak Park).
"Combined with passage of a balanced state budget that fully funds public schools, I believe this is the single most-significant statewide anti-poverty measure the legislature will pass this spring. I urge Gov. Rauner to sign it into law as soon as it lands on his desk."
Senate Bill 1 has strong support from thousands of school administrators, superintendents, principals, educators, taxpayers and advocates for fair school funding. Illinois' school funding formula has not been updated in more than 20 years and is considered one of the worst in the nation because it relies so heavily on local property wealth.
An analysis of Illinois State Board of Education figures released estimates this week by Funding Illinois' Future – a coalition that advocates for school funding reform – shows potential funding increases for local school districts under Senate Bill 1, an evidence-based model that accounts for factors such as students with disabilities, English language learners and low-income students.
It also provides extra support for the neediest districts in the quest for adequate funding, and it offers property tax relief.
No school district would receive less funding under Senate Bill 1 than they have received under Illinois' current school funding formula.
The estimated overall gain some area school districts would experience under the Funding Illinois' Future analysis of SB1 based on FY17 funding levels:
Maywood-Melrose Park-Broadview District 89 — $3.07 million
Berkeley School District 87 — $1.47 million
Bellwood School District 88 — $1.14 million
Proviso Township High School District 209 — $414,068
Addison District 4 — $369,418
Elmwood Park District 401 — $332,095
River Grove District 85-5 — $287,483
Oak Park Elementary District 97 — $182,460
DuPage High School District 88 — $125,465
In addition, under Senate Bill 1, high-tax school districts are eligible for property tax relief up to 1 percent of their EAV. Estimated property tax relief for two area school districts:
Berkeley School District 87 — $657,853
Proviso Township High School District 209 — $6.74 million
To review the Funding Illinois' Future analysis, visit fundingilfuture.org.
Category: News