Published: Tuesday, February 28, 2017 06:26 PM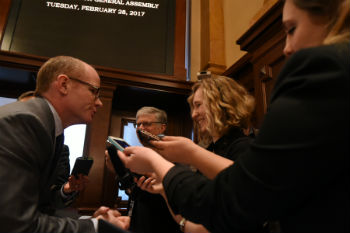 Illinois taxpayers, public universities and state agencies would benefit from a bipartisan plan to streamline the state's purchasing rules that was negotiated by Senator Don Harmon (D-Oak Park).
The legislation, Senate Bill 8, was approved in the Senate on Tuesday.
Harmon said it became clear to lawmakers that the state's procurement rules are ready for an overhaul. The legislature enacted a series of strict procurement reforms in the aftermath of the George Ryan and Rod Blagojevich administrations because of questions over how they handled contracting, bid-letting and transparency for state business.
But the rules may have gone too far, sacrificing some efficiency and savings in an effort to deter corruption, Harmon said.
"We heard from universities, in particular, that the state's purchasing rules have caused real headaches for them," Harmon said. "Rather than save money for the state, the rules frequently have caused them to waste more money and time than an average business would."
Harmon sponsored the legislation with Republican Senator Pamela Althoff of McHenry.
The measure is a key part of the Senate's so-called "grand bargain" compromise deal that Gov. Bruce Rauner is relying upon to achieve a balanced budget for the state. Rauner has pressed for procurement reform as one cost-savings measure.
Among other things, Senate Bill 8 does the following:
removes inappropriate restrictions on the procurement of specialized purchases, including database licenses and food for resale on campuses;
creates a pilot program modeled after one in California for the efficient purchase of heavy fleet vehicles, special equipment and off-road construction equipment;
requires state agencies to respond promptly in writing to inquiries and comments of the Procurement Policy Board;
streamlines the procurement code and protects lowest bids from disqualification for minor or technical issues;
permits informational communication between vendors and the state, while still requiring that the inspector general be notified of any collusion or anticompetitive procurement practices; and
creates a special committee on procurement efficiency in purchasing that will study ways to further streamline the process; study procurement laws about contracting with minority-owned, women-owned, disabled-owned, and veteran-owned businesses; and study ways to purchase additional goods and services from Illinois companies.
Category: News