Published: Thursday, August 25, 2016 12:09 PM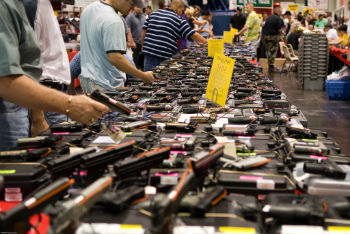 Senator Don Harmon is calling on the gun-rights advocates and Gov. Bruce Rauner to do more to help state lawmakers and local communities curb gun violence and protect the children of Illinois.
Harmon, an Oak Park Democrat, is chairman of a Senate subcommittee on firearms, which heard testimony Tuesday about legislation that would restore local governments' right to control the types of weapons and ammunition allowed in their communities. Local control over such matters was taken away in 2013 when the state passed its concealed carry law.
As with so many other proposals designed to target gun violence and the illegal gun trade, gun-rights advocates are opposed to the measure.
"Kids are dying, and these products are causing it," Harmon said. "It's a crisis. Find a way to help us protect everyone, including law-abiding gun owners."
Harmon, who favors greater accountability standards for gun dealers to stem the tide of illegal firearms flowing into Illinois, said that in the absence of Congressional action to deter gun violence and restrict access to weapons nationally, it's up to state officials and local communities to protect residents themselves.
It's not about taking rights away from law-abiding citizens who own and enjoy firearms, he added, acknowledging the state's regional diversity when it comes to opinions about guns.
"In my time in Springfield I've evolved from someone who grew up in a house without guns to understanding my colleagues across the state who represent communities where guns are common and used responsibly. I respect them and the cultural differences more than I did when I started this job," Harmon said.
"But kids are dying on our streets because there are too many guns, and we get no help from the gun lobby. I'm begging them to find a way to work with us rather than block our efforts and pay lip service to what we're trying to do. We'll protect law-abiding gun owners in the process, but we need them to help us put the bad guys out of business."
Rauner this week signed Republican-backed legislation that increases criminal penalties for gun trafficking in Illinois. Harmon said the measure does not go far enough to curb gun violence, nor does it offer the local oversight that communities want.
He called on the governor – an ardent proponent of local control of government – to express support for local gun laws and statewide violence-prevention measures, and to do more to bring attention to the public health crisis that guns are causing in Illinois.
Harmon also appealed to gun-rights advocates to stop standing in the way of sensible restrictions that will protect people and that polling consistently shows the majority of Americans want.
In Illinois, since 2013 the National Rifle Association and the Illinois State Rifle Association have objected to a host of legislation designed to reduce gun violence and protect potential victims. Proposals they've opposed include state licensing of gun and ammunition dealers, barring people on the terrorist watch list from obtaining FOID cards, creating a firearms registry, banning imitation and replica firearms, requiring gun owners to have liability insurance, creating a gun violence restraining order, strengthening the FOID card revocation process and barring the use of three-dimensional printers to create guns.
Meanwhile, just over halfway through 2016, gun violence in Chicago is on pace to eclipse last year's statistics. More than 2,700 people have been shot in the city so far this year; in all of 2015 just under 3,000 people were shot.
Among the more than 50 victims of gunfire during the past weekend was an 8-year-old girl who was shot in the wrist as she attended a vigil for a 14-year-old boy who was shot and killed early Sunday in Chicago's Austin neighborhood, which is in Harmon's legislative district.
"Meet us in the middle, for God's sake," Harmon said in a plea to gun-rights advocates. "How many children are going to have to die while the gun lobby stands by and watches?"
Category: News