Published: Friday, May 27, 2016 09:27 AM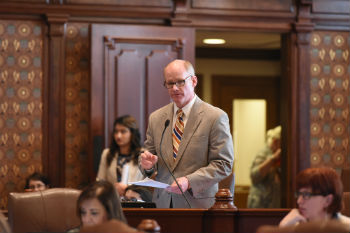 Scholarships for the children of Illinois firefighters and police officers who die in the line of duty would be funded again under legislation that passed in the Illinois Senate on Thursday.
Senate Bill 2051, sponsored by Senator Don Harmon (D-Oak Park), would appropriate $975,000 for college scholarships for children of deceased police officers, firefighters and correctional officers, as well as $5 million for payment of line-of-duty awards.
The payments have been held up because of the state budget stalemate.
"The least we can do for the survivors of frontline public safety workers who put their lives on the line in service to their communities and to taxpayers is to pay them what we promised to pay them," Harmon said. "These awards offer some comfort and financial stability to families who face a great deal of uncertainty and hardship when their loved ones die in the line of duty."
Among those who could benefit because of the legislation is the family of deceased Oak Park firefighter Kenneth K. Harris.
A 28-year veteran of the Oak Park Fire Department, Harris, 56, died Jan. 11, 2016, of cardiac arrest at his Berwyn home after working a 24-hour shift and an additional six hours of fire prevention work. He is survived by his wife, five children and several grandchildren.
"These scholarships and awards for the survivors are important. When a first responder dies in the line of duty, it's comforting to know that their family is going to be taken care of financially," said Mike Henkelman, one of Harris' colleagues at the fire department and president of the Oak Park Fire Fighters Association, Local 95. "We certainly appreciate Senator Harmon's efforts with this legislation."
The Senate honored Harris this month with memorial resolution, SR 1881, acknowledging his service to the village of Oak Park and offering condolences to those who knew him.
Category: News