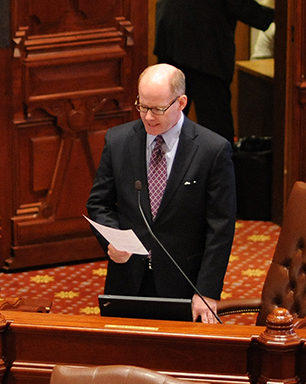 SPRINGFIELD – State Senator Don Harmon (D-Oak Park) is supporting a proposed law to outlaw a practice commonly called "revenge porn" – when someone who happens to have indecent pictures of another person posts those photos on a publicly accessible website as a means of shaming and harassing that person.
"People have a right to privacy," Harmon said. "Greater access to technology shouldn't change that basic right."
The legislation makes it a felony to post sexually explicit photos or videos of a person online without that person's consent. It also makes it a felony to host a website that requires payment to take down these photos. Many such websites also post personal contact information. Violating the law would result in up to three years in prison and a fine of up to $25,000.
Though it is already illegal in Illinois to post sexually explicit pictures of a person on a pornographic website without that person's consent, a loophole in existing law allows pictures to be posted to Internet websites that are not explicitly pornographic.
Harmon was inspired to become a co-sponsor of the legislation after a constituent contacted him to describe how she lives in fear of her ex-husband following through on threats to post old photos or videos.
"These pictures, these videos are forever a noose around my neck," Diana Pisone, an Oak Park resident, told the members of the Senate Criminal Law Committee.
"Posting a compromising picture of someone online is the worst kind of bullying – especially if the picture is accompanied by contact information," Harmon said. "People have to change email addresses and phone numbers – sometimes even move – to escape the harassment. This bullying and extortion needs to be a crime."
The legislation is Senate Bill 2694. It passed the Criminal Law Committee and is ready to be considered by the full Senate.