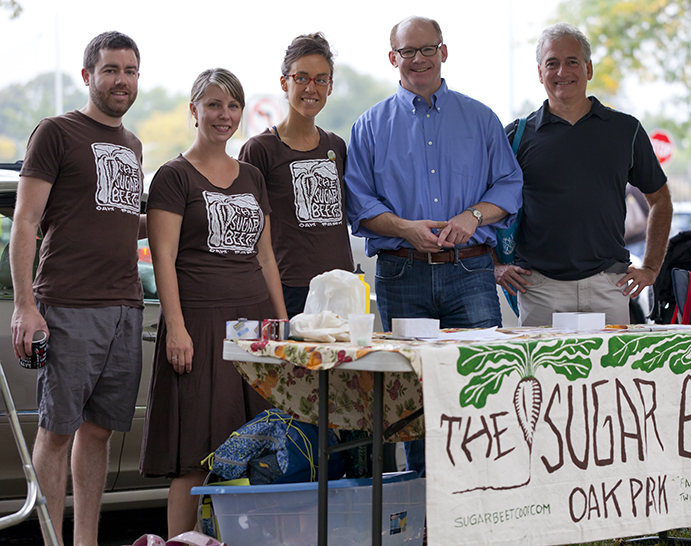 In honor of the new law designating the first Saturday of each month "Eat Local, Buy Illinois Products Day," Senator Don Harmon met with local groups at the Oak Park Farmers' Market.
"This law should bring a new and well-deserved appreciation for all the wonderful food grown in Illinois and available in our community," Harmon said. "Buying local and shopping at farmers markets like this one can go a long way toward helping families make healthy choices, protecting the environment and supporting Illinois' farming families. It gives us a chance each week to connect with friends and neighbors."
According to the Illinois Department of Agriculture, if every household in Illinois spent just $10 of their grocery bill each week on Illinois products, we would reinvest $47 million in the Illinois economy, resulting in a $2.4 billion investment over the course of a year. People identify Illinois with corn and soybeans, but pumpkins, melons, horseradish and peaches are just a few of the specialty crops grown on farms in our state. In 2010, these crops alone resulted in over $390 million in sales.
At the market, Senator Harmon spent time with Oak Park's Sugar Beet Co-op, Seven Generations Ahead and FamilyFarmed.org.
Cheryl Munoz with Sugar Beet said, "Farmers' Markets and food co-ops like The Sugar Beet Co-op, set to launch in Oak Park in the next 2 years, support Illinois farmers by providing small, vibrant markets. Educating people about the importance of our local food economy is part of our work, as well. Buying local starts with creating local markets that give consumers access to and information on our local food shed."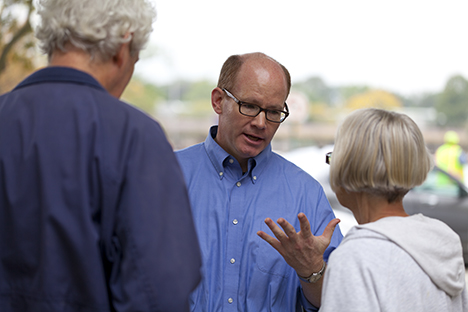 Jim Slama, President of FamilyFarmed.org commented, "Buying local food is an important way to build local economies and help your family stay healthy. FamilyFarmed.org works with family farmers to expand local food, and shopping at fall farmers markets is a perfect way to support local farmers and eat an amazing array of local produce".
Seven Generations Ahead (SGA) facilitates sustainable and healthy community planning initiatives across the Midwest that incorporate local, sustainable food strategies, and has implemented its nationally-recognized farm to school program for the last decade. Mark Ledogar, SGA Board President joined the Saturday meeting, as well.
Illinois "Eat Local Day" was created by a new law this August. In addition to designating the first Saturday of each month Eat Local, Buy Illinois Products Day," the law directs the Department of Agriculture's Illinois Product Logo Program to assist in increasing awareness and sales of Illinois food and agribusiness products. It passed the Illinois legislature with overwhelming support, including Harmon's.
The Local Beet website maintains a market locator for our region by zip code, to learn more: http://www.thelocalbeet.com/marketlocator/.