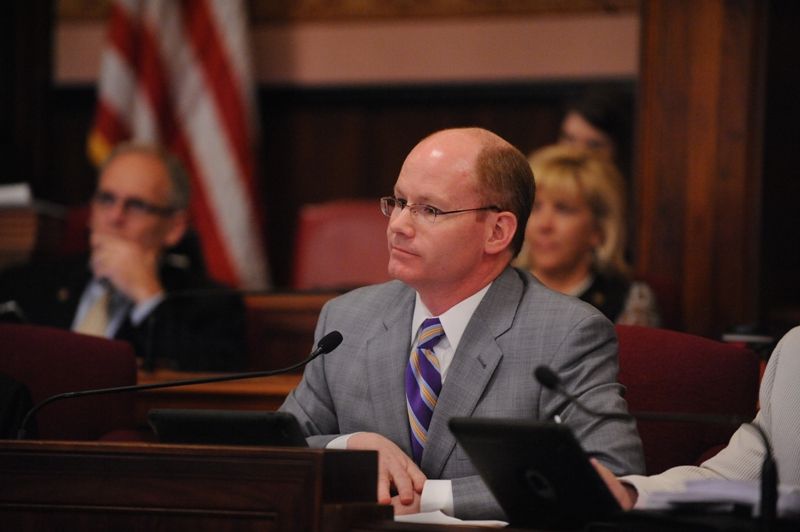 CHICAGO – Thanks to State Senator Don Harmon (D-Oak Park), Illinois citizens will soon be able to register to vote and request absentee ballots online.
"We can strengthen our democracy by making it easier to vote," Harmon said. "We can pay our bills online, shop online, even control your home air conditioner over the Internet. In the 21st Century, you should be able to register to vote online.
"We also keep trying to find ways to save our cash-strapped state money. This is an easy way. Processing a paper registration costs 83 cents. Processing an online application costs 3 cents."
Harmon's plan, House Bill 2418, not only allows voters to register online, but it also allows election authorities to send notices using email, establishes more voter-friendly early voting hours, allows voters to request absentee ballots online and more.
Each measure has careful safeguards to prevent voter fraud and electoral abuses.
The legislation encourages participation in democracy by:
• Establishing online voter registration
• Allowing voters to receive notifications via email
• Requiring early voting locations in Illinois' largest counties to be open Sunday afternoons rather than Sunday mornings
• Requiring early voting centers on college campuses to encourage young people to vote
• Making it easier for provisional votes to count by giving provisional voters seven days to provide evidence they are registered to vote and allowing certain votes cast at the wrong precinct to count
• Allowing voters to request absentee ballots online.
It fixes problems with Illinois' electoral system by:
• Fixing a loophole that allows wealthy candidates to fund their own campaigns by strategically timing their contributions in earlier election cycles
• Ensuring that super PACS can't coordinate donations to prevent lifting contribution caps for other candidates
• Redirecting school board petition challenges to county election authorities
• Requiring the State Board of Elections to post vote totals within 52 days of an election.
Senator Harmon commended grassroots election reform organizations for their advocacy on behalf of the new law. He cited as an example Chicago Votes, a nonpartisan organization that trains young people aged 16 to 35 in the leadership skills, civic knowledge and hands-on experience needed to have an impact on democracy. The group has been waging an intensive social media campaign on behalf of online registration.
"Online voter registration will help to bring about a new era of civic engagement in Illinois," said Rebecca Reynolds, Executive Director of Chicago Votes. "When every iPhone, library and computer lab becomes a site for voter registration, we open the doors for a wave of new voters to get registered, get to the polls, and get involved."
"We thank Senator Harmon for his leadership on this and other critical issues relating to modernizing our voting system," said Reynolds. "He has been an incredible ally in this effort to make sure the democratic process is accessible to all Illinoisans, young and old."