UPDATE: Governor Quinn signed Senate Bill 724 on Sunday, May 5 in Oak Park. The legislation takes effect immediately. Click on the links below to read more about the signing of this legislation or read further for the original press release relating to this bill.

Read more:
Quinn signs liquor law at Maya del Sol (OakPark.com)
New law will allow incoming Oak Park Mayor to keep liquor-serving restaurant (CBS Chicago)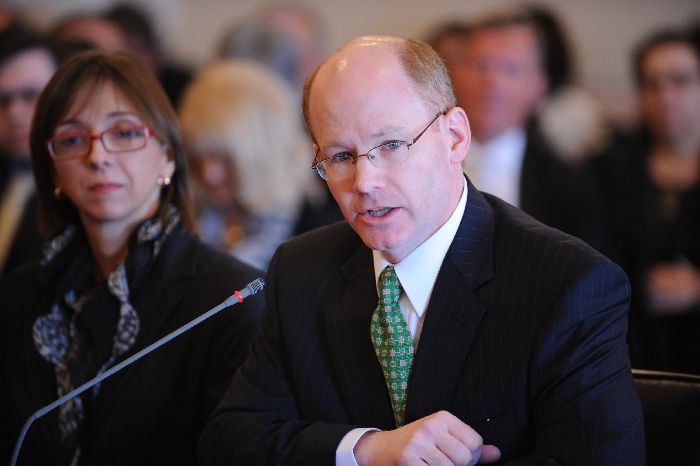 Original Release, April 22, 2013:
SPRINGFIELD – Senator Don Harmon (D-Oak Park) is sponsoring legislation that would clear away a state hurdle preventing Oak Park Village President-elect Anan Abu-Taleb from also holding a liquor license. The measure, Senate Bill 724, passed the Illinois Senate 47-3 on April 18 and is expected to be taken up by the House when it returns to the Capitol in two weeks.
The 1934 Liquor Control Act established that suburban mayors or village presidents would also serve as local liquor control commissioner, but to avoid conflicts of interest, could not hold liquor licenses in the communities that elected them.
The General Assembly amended the law last year to exempt communities of 50,000 or less and provide for delegation of liquor commissioner duties to another official in such cases.
With Oak Park's current population hovering around 52,000, the Harmon amendment would slightly increase the exemption so it would apply to communities of 55,000 or less. Doing so would allow Village President-elect Anan Abu-Taleb to keep his liquor license for Maya del Sol restaurant, and direct the other members of the Village Board to appoint a replacement liquor commissioner.
"One of the things we're elected to do as state legislators is address pressing issues in our home communities. In this case, we had someone supported by 60 percent of Oak Park voters who was technically prevented from serving as president while owning a restaurant. With the approaching May 6 swearing-in of the new Village Board, I saw this as important, urgent, needed action," said Harmon.
Harmon did not discuss the matter with Abu-Taleb until after the April 9 election, as there would have been no point in raising the issue had the restaurateur lost. Harmon introduced the amendment on April 15.
He attached his amendment to a "vehicle bill" introduced in January affecting the Liquor Control Act. Such vehicles often are introduced at the beginning of the session and moved through the legislative process so they are in place to address issues that may arise in certain laws or sections of Illinois law.
Harmon said that during the April 18 debate on the Senate floor, questions were raised about whether the law was even needed at all, and some suggested that the General Assembly strike it from the statutes during their 2014 session.
"There was considerable debate on the Senate floor last week about whether we even need this law at all, so long as the potential conflict of interest is resolved. Restaurateurs are often popular people in their communities and perhaps should not have to decide between their businesses and their elected offices," said Harmon. Many business owners in other lines of work run for local office, he noted.
The 2012 amendment exempting communities of 50,000 or less allowed Niles Village Trustee Andrew Przbylo to serve on the village board while still holding the license as owner of the popular White Eagle banquet hall. Przbylo was elected Niles village president earlier this month.
The Oak Park Village Board is also addressing an ethics ordinance that affects Abu-Taleb as holder of a liquor license, but whatever the disposition of that, a change in state law still would be required in this situation.