Published: Monday, April 01, 2019 12:36 PM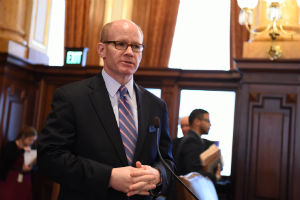 SPRINGFIELD – Legislation sponsored by State Senator Don Harmon (D-Oak Park) that will reinstate parole in Illinois for youthful offenders became law today.
Gov. JB Pritzker signed Harmon's measure allowing offenders who were sentenced for offenses committed under the age of 21 to petition the Prisoner Review Board for parole after serving 20 years for homicide or aggravated criminal assault and 10 years for all other offenses.
"The policy of locking youthful offenders away for decades without meaningful opportunity for release has disproportionately impacted minority communities," Harmon said. "The facts show that young offenders are extremely unlikely to commit violent crimes again after release. This law will give them a chance to reenter society once they have served the time for their offense."
Those convicted of predatory criminal assault or sentenced to natural life imprisonment for first degree murder would not be eligible for parole.
Illinois does not currently allow prisoners to petition for parole, but rather implements mandatory supervised release after they have completed their sentence.
House Bill 531 takes effect immediately.